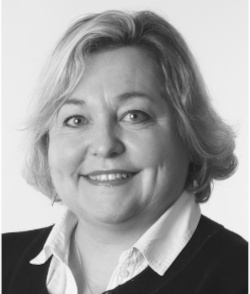 Sophie GOULARD
Patent Team – Life Sciences/Chemistry
Technical Areas of Expertise
Chemistry
Biochemistry
Materials
Diagnostics and Therapeutics
Pharmaceuticals
Cosmetics
Agribusiness and Agronomy
Natural Resources and Environment
Nanotechnology
Other Technical Fields of Competence
Supplemental Protection Certificates
New Plant Variety Certificates/Biological Material Deposits
Energy
Biotechnology/Molecular Biology/Genetics/Stem Cells
Medical devices
Educational Background
Master of Science in Scientific Innovation, Biology / Biochemistry (University of Angers)
Professional Qualifications
French Patent Attorney
European Patent Attorney
CEIPI Graduate
Languages
French, German
After a year spent at Pierre Fabre in the Trademark Department, Sophie joined the Industrial Property Department of l'Oréal where she stayed for 10 years. She then practiced for more than twenty years in two Parisian industrial property firms before joining the IPAZ firm.
Sophie deals more particularly with cases in the fields of inorganic and organic chemistry, pharmacy and life sciences:
– Electrochemistry,
– Catalysts,
– Gas storage processes, hydrogen production processes,
– Organic synthesis processes, ionic liquids,
– Materials: Carbon, titanium, silica monoliths; spin transition materials, heat storage materials, hyperhydrophobic materials, etc …
– Ophthalmic lenses, surface treatments, corrective lenses, tinted lenses, etc
– Power cables: conductive materials, insulating materials, etc…
– Cosmetics: compositions for skin care, hair dyes, oral care,
– Medical field: molecules for the prevention or treatment of malaria, anti-cancer drugs, various pharmaceutical compositions, antiparasitic drugs in veterinary medicine,
– Biology: 3D lung cell model, bioreactors, enzymatic biosensors, biomaterials for tissue reconstruction, etc.
– Polymer membranes for filtration,
– Micro-encapsulation,
– Food industry.
Her clients are large industrial groups, as well as SMEs or academic laboratories belonging to various French or foreign universities.
Her expertise includes drafting patent applications, handling proceedings in France and abroad, managing IP portfolios, technology watch, competitive intelligence, consulting and litigation in patent matters. In addition, she is used to assist bailiffs in infringement seizures. She has been involved in several litigations regarding the infringement and validity of Supplementary Protection Certificates in different European countries. Sophie is used to attend oral proceedings to defend cases at the European Patent Office.
She also carries out freedom to operate studies, patentability analyses, and audits of IP portfolios.
In parallel with her professional activities, Sophie is a member of the jury for the French Examination of Aptitude for registration on the list of qualified person in Industrial Property, (EQF and VAE) for many years.
Member of the CNCPI (Training Commission) and the EPI.
Her professional languages are French and English.