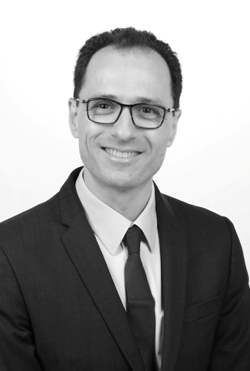 Alexandre LANG
Patent Team – Engineering Sciences
Technical Areas of Expertise
Mechanics
Physics
Acoustics
Civil Engineering
Energy
Medical Devices
Natural Resources and Environment
Other Technical Fields of Competence 
Robotics
Materials
Photonics/Optics
Educational Background
Engineering degree and PhD from University of Technology of Compiègne (UTC)
Professional Qualifications:
French Patent Attorney
European Patent Attorney
Graduate of the Center for International Intellectual Property Studies (CEIPI)
Patent Associate
Languages
French, English
Alexandre is mostly active in the fields of mechanics and physics, with a specialization in acoustics. He has experience working in the fields of aeronautics, automotive and medical devices.
He is qualified to provide legal counsel and represents IPAZ's clients to acquire, maintain, operate and defend the validity of patents and patent applications, as well as of related rights. His areas of expertise include patent application drafting, monitoring of patent procedures in both France and abroad, IP portfolio management, competitive intelligence, and patent consultations and litigation.
Alexandre also has experience in scientific research, acquired during his PhD and a post-doctorate training at the French National Centre for Scientific Research (CNRS) and Pitié-Salpêtrière Hospital, and experience in teaching.