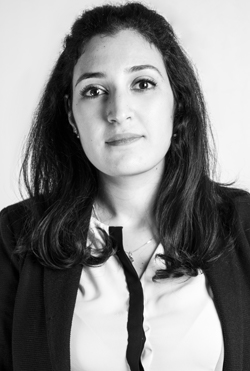 Soukeyna BOUCHEBOUT
Patent Team – Engineering Sciences
Technical Areas of Expertise
Robotics and Artificial Intelligence
Mechanics
IT/Software
Nanotechnology
Other Technical Fields of Competence 
Medical Devices
Physics
Electronics/Semiconductors
Photonics/Optics
Natural Resources and Environment
Energy
Educational Background
PhD in Robotics (UPMC, Paris VI)
Master's Degree in Advanced Systems and Robotics (UMPC, Paris VI)
Engineering Degree, Specialization: Robotics (Polytech'Paris)
Professional Qualifications: Patent Associate
Languages
French, English, Arabic
Prior to working in IP, Soukeyna conducted research on various topics including the design and control of micro-robots, electromagnetic actuators and ferromagnetic microparticles, robotic motion planning (through the use of Rapidly-Exploring Random Tree algorithms), and the design and construction of mechatronic systems for fluid levitation.
She is particularly involved in the fields of robotics, microfluidic systems, electronics, physics (electromagnetism, micromanufacturing, nanotechnology, etc.), IT and new ICT technologies, various fields associated with medical devices (mechanical and robotic prostheses, medical image processing, diagnostic assistance software, CAMI, etc.), and the environment and natural resources (agricultural robots/machinery, natural resource and environmental exploration, etc.).
Her proficiencies include drafting of patent applications, monitoring of patent procedures in both France and abroad, technology watches, and scientific database and patent searches.