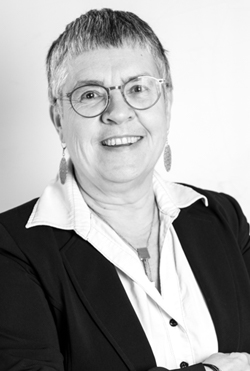 Claire MOUGET GONIOT
Patent Team – Life Sciences/Chemistry
Technical Areas of Expertise
Diagnostics and Therapeutics
Pharmaceuticals
Cosmetics
Agribusiness and Agronomy
Chemistry
Materials
Biochemistry
Natural Resources and Environment
Nanotechnology
Other Technical Fields of Competence 
New Plant Variety Certificates/Biological Material Deposits
Energy
Electronics/Semiconductors
Educational Background
PhD in Cellular and Molecular Biology (Université de Strasbourg)
Engineering, Specialization: Biochemistry (INSA de Lyon)
Specialized diploma (D.U.) in European Patent Litigation
Master's Degree in Law and Management Economics, Specialization: Intellectual Property Law (Université de Strasbourg)
Professional Qualifications
Partner
French Patent Attorney
European Patent Attorney
CEIPI Graduate
Languages
French, English, German
After ten years of experience as a researcher in the pharmaceutical industry (Clin Midy, Sanofi, and Delalande), Claire spent another ten years in Synthélabo's patent department. She went on to work for specialized industrial property firms in the medical, pharmaceutical, and environmental sectors.
Claire mainly deals with portfolios involving the following fields: agribusiness, chemistry (organic, medicinal, etc.) materials (natural polymers, plant fibers, fuel, energy, etc.), the agri-food industry, agronomy, natural resources, biology, biotechnology, cosmetics, phytochemistry, biophysics, health, medicine, therapeutics/diagnostics, and pharmacology. She works with large industrial groups, SMEs, and the academic laboratories of both French and foreign universities.
Her proficiencies include drafting of patent applications, monitoring of patent procedures in both France and abroad, IP portfolio management, technology watches, competitive intelligence, and patent consultations and litigation. She has participated in several trials related to originator and generic drugs in the French courts. Claire is accustomed to representing clients during oral proceedings before the European Patent Office. She specializes in European patent litigation.
She participates in management audits of employees' inventions and establishes remuneration policies for these inventions within companies. She also drafts non-disclosure agreements, technology transfer agreements, assignment agreements, joint ownership agreements, patent license and knowledge transfer agreements, technology purchase option agreements, and research, cooperation and consortium agreements.
She carries out corporate intellectual property assessments in the context of capital increases. She also assists bailiffs during counterfeit seizures.
Claire is a lecturer and trainer at the CEIPI (French and international sections) as well as at various schools and universities. She was also an INPI trainer for a number of years.
Claire was the chairwoman of the CNCPI training committee for ten years and has been a member of the CEIPI Board of Directors for four years. She is also a member of the AIPPI (The International Association for the Protection of Industrial Property).