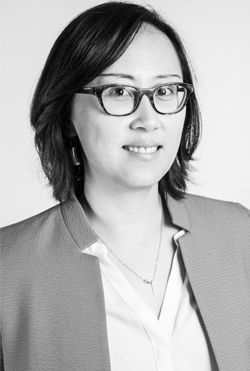 Ying DONG
Patent Team – Life Sciences/Chemistry
Technical Areas of Expertise
Technical Areas of Expertise:
Diagnostics and Therapeutics
Biotechnology/Molecular Biology/Genetics/Stem Cells
Biochemistry
Pharmaceuticals
Materials
Other Technical Fields of Competence 
Cosmetics
Agribusiness and Agronomy
Chemistry
New Plant Variety Certificates
Natural Resources and Environment
Nanotechnology
Educational Background
Ph.D. in Biochemistry and Plant Molecular Biology (Université des Sciences et Technologies de Lille)
Post-Graduate Diploma (DEA) in Life Sciences and Health (Université des Sciences et Technologies de Lille)
Master's Degree in Biotechnology (Jiao Tong University, Shanghai, China)
Professional Qualifications: Patent Associate
National Industrial Property Institute (INPI) Accreditation (Patents)
European Patent Attorney
CEIPI Graduate
Languages
French, English, Chinese
Ying first worked in scientific research, in the field of plant glycobiology. This experience enabled her to acquire solid theoretical and practical knowledge pertaining to both molecular biology and biochemistry. She is the principal author of two academic publications written while she was completing her thesis.
She deals with portfolios involving health, molecular biology, biotechnology, microbiology, chemistry (organic, medicinal, materials, fuel, energy, etc.), agribusiness, agronomy, natural resources (plant biology, etc.), cosmetics, and pharmaceuticals. More specifically, she handles issues pertaining to biosensors, nanomaterials, gene and targeted therapy technology (such as siRNA and miRNA technology, chemotherapy, and radiopharmaceuticals), and bioremediation.
Her proficiencies include drafting of patent applications, monitoring of patent procedures in both France and abroad, IP portfolio management, technology watches, competitive intelligence, and patent consultations and litigation.
She is accustomed to representing clients during oral proceedings before the European Patent Office.