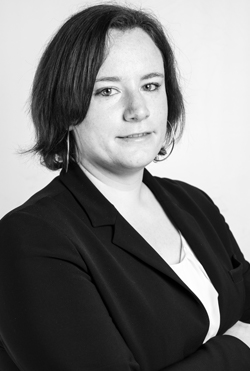 Ludivine DECOBERT
Patent Team – Life Sciences/Chemistry
Technical Areas of Expertise
Biotechnology/Molecular Biology/Genetics/Stem Cells
Diagnostics and Therapeutics
Pharmaceuticals
Cosmetics
Agribusiness and Agronomy
Biochemistry
New Plant Variety Certificates/Biological Material Deposits
Other Technical Fields of Competence 
Chemistry
Materials
Medical Devices
Nanotechnology
Educational Background
Bioengineering, Specialization: Pharmacology and Biotechnology (Polytech'Nice Sophia)
Professional Qualifications: Patent Associate
European Patent Attorney
CEIPI Graduate
Languages
French, English, German
Ludivine deals with portfolios involving health, biology, biotechnology, molecular biology, protein glycosylation, hemostasis, transgenesis, cell therapy, gene therapy, microbiology, pharmacology, vaccine therapy, immunology, chemistry (organic, medicinal, and materials), agribusiness, agronomy, and cosmetics.
She spent two years working in the industrial property department of a biopharmaceutical group specializing in the development and production of blood-derived medicines and biomedicines obtained by either transgenesis or cell therapy. Ludivine then spent four years working in the life sciences department of an industrial property consulting firm before joining Pontet Allano in 2014.
Her proficiencies include drafting of patent applications, prior art searches, patentability studies, monitoring of patent procedures in both France and abroad, IP portfolio management, technology watches, competitive intelligence, freedom to operate studies, patent consultations and litigation, filing and monitoring supplementary protection certificates (SPCs), filing and monitoring international common designation procedures (INN), filing with the Chemical Abstracts Service (CAS), and the deposit of biological materials in France at the Institut Pasteur's Collection Nationale de Cultures (CNCM) and abroad.
She is accustomed to representing clients during oral proceedings before the European Patent Office.
Ludivine has also handled a proprietary claim dispute in the French courts.