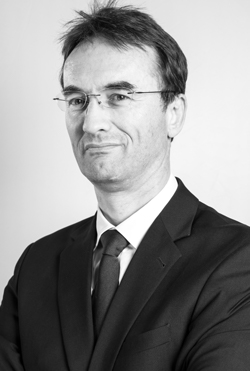 François MÜNDLER
Patent Team – Engineering Sciences
Technical Areas of Expertise
Mechanics
Medical Devices
Energy
Other Technical Fields of Competence 
Physics
Photonics/Optics
Robotics and Artificial Intelligence
Telecommunications
IT/Software
Civil Engineering
Nanotechnology
Natural Resources and Environment
Educational Background
Engineering, Specialization: Mechanical Engineering (Ecole Nationale Supérieure des Arts et Métiers – ENSAM)
Professional Qualifications: Patent Associate
Partner
French Patent Attorney
European Patent Attorney
CEIPI Graduate
Languages
French, English
François worked in industry for six years, as an engineer in the field of graphic arts.
He primarily handles portfolios involving mechanical engineering, ICT and IT, medical devices and biomechanics, various medical equipment, prostheses for the human body, physics, optics, nanotechnology and nano-optoelectronic components, laboratory robots (PCR machines, cell sorters, etc.), mechanics, and the automotive industry.
His proficiencies include drafting of patent applications, monitoring of patent procedures in both France and abroad, IP portfolio management, technology watches, competitive intelligence, and patent consultations and litigation.
He is accustomed to representing clients during oral proceedings before the European Patent Office.
He assists bailiffs during counterfeit seizures.
He is involved in various universities and engineering schools.